Sign Up For Kids Bowl Free!! Click HERE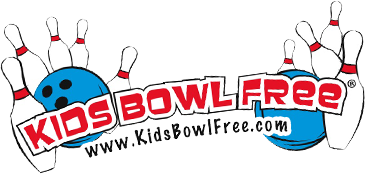 2 FREE Games of bowling per day from July 1st - September 30th. All you pay is $3 shoe rentals.
Summer Bowling Camps

We are again offering 2 summer bowling camps this year. They both are week long camps, running from 9:00am - Noon. Included in the camp is:
- Bowling Instruction
- Fun Bowling Games
- Lunch (Pizza or hot dogs)
- Mini-Golf (Usually 2 - 3 rounds during the week. Dependent on weather)
- T-Shirt
DATES: July 13th - 17th OR August 10th - 14th
Fall Leagues

There is room in our adult / youth / club 55+ leagues. Call or e-mail for more info. Join as a single bowler, couple or team of up to 5 people. This is a great way to meet new people and enjoy the fun sport of bowling.
We have the league standings ONLINE. Click on this link: League Standings, and check out how you're doing.
READ BELOW ABOUT ONLINE BOOKINGS!!
BRAND NEW TO ST. ALBERT BOWLING CENTRE - ONLINE BOOKINGS


Book online to save some time. You may now book your birthday parties, or regular bowling. You can book for Neon bowling times or regular bowling times. Neon runs every Friday from 4:30pm - 6:00pm or Saturday / Sunday from 3:15pm - 6:00pm and late night on Friday and Saturdays from 10:00pm - 12:30am.
Restrictions -
Regular hourly bowling can only book up to 12 people.
Birthday Parties - Are for 2 hours long. The first hour is bowling and the second hour is at a birthday party table. Please give us the birthday child's name in the comment section when making your booking. Also, if you are getting a Silver, Gold or Platinum Package, please include your pizza order. Make sure we get it at least 48 hours notice.
10 Pin bowling is unavailable on Saturdays before 7:00pm.
Any time that you book 3 lanes or more, we do require a 50% deposit to be paid. This will have to be done by either phoning us and giving a credit card over the phone or by stopping by in person.
Kids Bowl Free can not be booked online, only by calling in.
IMPORTANT NOTE!!! - HOLIDAYS use our evening / weekend pricing, so it may be different than what the online booking says.

Please click the link below to get started, but keep in mind. We love talking to people here at St. Albert Bowling Centre. So if you can't find what you want, or have some more questions please give us a call. 780-459-3337. Especially breaking in a new system like this, we may be able to accommodate you, even if the online system says there is nothing available.